is a contemporary stylish bar cafe located in the heart of Peterborough.
Opened in August 2016 Harry's is the latest addition to the Solstice family and offers something very different to anything seen in Peterborough. Offering exceptional service and a sophisticated ambience within our colourfully dressed interior. Enjoy classic drinks and premium beers with a modern cocktail list and of course a superb wine and champagne menu.​
EAT WITH US AT
Exceptionally beautiful food
awaits you at Harry's Bar & Cafe. Check out our tasty menu by clicking the link below.
Our Food Menu is served
Monday to Sunday: 12.00pm - 9.00pm
​
DRINK WITH US AT
We have a fantastic array of drinks on offer here at Harry's with a beautiful Cocktail Menu along with a wide range spirits, wines, prosecco and champagne menu to suit all tastes.
Check out our COVID-19 Amended Drinks Menu
​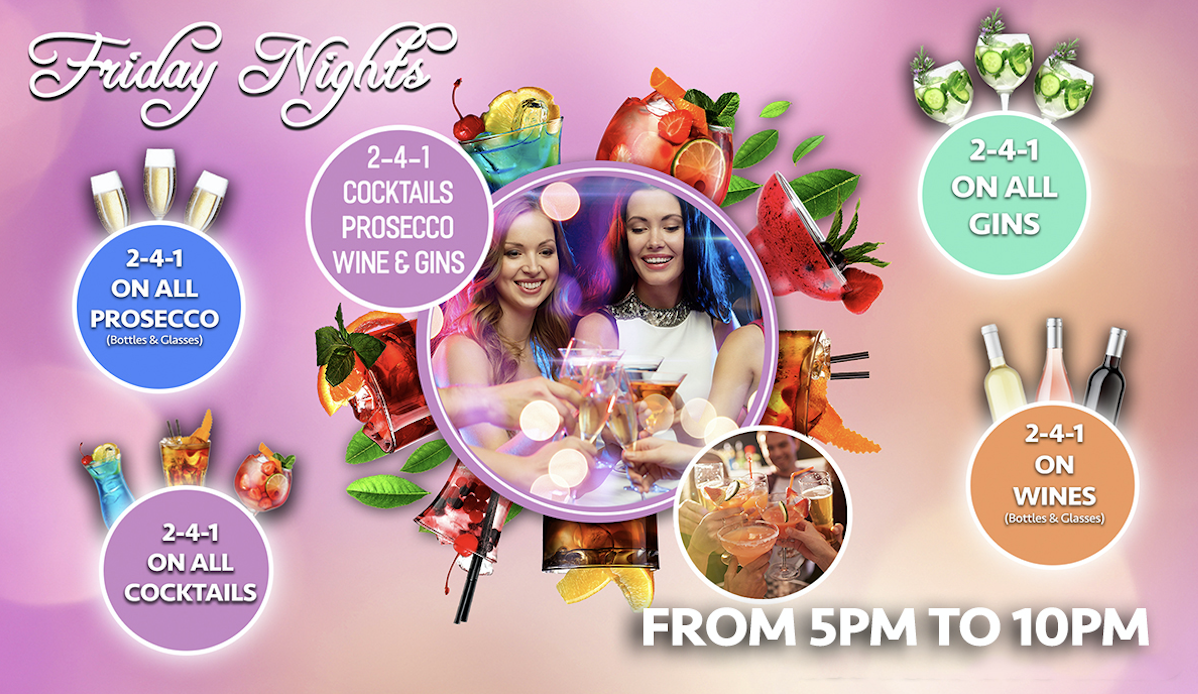 PRIVATE HIRE AT
Looking for somewhere to hold that unique or intimate party? Then look no further Harry's offers your a place to party in private with a capacity of up to 80 people we can create a very bespoke party for you.
Get in touch with us today to see what we can
do for you and your party or event.
​
EVENTS AT
Check out all the events happening here at Harry's Bar & Cafe. We have a host of regular things happening here including our weekly resident DJ's in the bar on a Friday and Saturday night
from 9pm until late.
COMING SOON WE HOPE!
​
Looking for corporate venue hire or private hire? From Birthdays & Weddingsto Launch nights Harry's Bar & Cafè can accommodate for all.
Based in the centre of Peterborough situated next to Solstice, Harry's Bar & Cafe boasts one of the most elegant function rooms in the centre of Peterborough. Easily accessible by car and parking just round the corner Harry's Bar & Cafe is simply ideal for corporate events, private parties, and wedding receptions.
We cook all our delicious food in house meaning we can cater to your specific requirements and always have an expert mixologist to hand to shake up a selection of truly beautiful cocktails!
BOOK TODAY
​
NORTHMINSTER, PETERBOROUGH, PE1 1YN
Monday to Sunday - 11.00am to 10.00pm
last entry is 9.30pm
Tel: 01733 560231
email. info@thesolstice.co.uk
.
HARRY'S AFTERNOON TEA
HARRY'S MINI CREAM TEA
Pot of Tea, Scone, Jam & Cream
£4.75
HARRY'S LUXURY CREAM TEA
Pot of Tea, Scone, Jam & Cream,
Finger Sandwiches and a sweet treat.
£7.95 PER PERSON
HARRY'S LUXURY CREAM TEA WITH PROSECCO
Pot of Tea, Scone, Jam and Cream, Finger Sandwiches,
a sweet treat and a glass of Prosecco.
£12.50 PER PERSON
MARY'S CHAMPAGNE AFTERNOON TEA
Pot of Tea, Scone, Jam and Cream, Finger Sandwiches
served with Sorbet and a Glass of Crisp Fine Champagne.
£17.95 PER PERSON
MARY'S LUXURY CHAMPAGNE AFTERNOON TEA FOR TWO
Enjoy a selection of finely cut sandwiches. Scones, cream and jam served
with mouth-watering sorbet and a bottle of Moet e Chandon.
£90.00 PER PERSON
​
LONG ISLAND ICE TEA - £6.00
One of the all time greats. A stealth like drink that goes down so easy, the high alcohol content sneaks up on you. Beware.
MARTINI - £6.00
"The only perfect American invention" - M.L.Mericken. Wet, dry, or dirty -
prepare to look like Bond.
APPLETINI - £6.00
A fruity twist on a classic drink.
MARGARITA - £6.00
An elegant blend of Tequila,
fresh Lime & Orange.
PASSION FRUIT MARTINI - £6.00
The perfect mix of flavours and fizz, served with a shot of prosecco on the side -
a great start to a summer party.
HARRY'S - £6.00
This high-octane cocktail full of delicious fruit juices that make you feel like you're downing sophisticated candy.
DAIQUIRI - £6.00
Discover the original frozen daiquiri,
unchanged since its legendary birth
at El Floridita - the iconic Havana bar.
Or try one of the better known, much-loved variations; Strawberry and Raspberry.
BLOODY MARY - £6.00
A classic Vodka based cocktail defined by the seasoning of the Tomato juice.
HUGO - £6.00
The Hugo is a cocktail pleasing to the eye - prosecco based, fresh, light and fragrant; the perfect drink for all year round.
MOJITO - £6.00
This traditional Cuban cocktail is an all time favourite with a base of white rum
with lime and mint.
COSMOPOLITAN - £6.00
Made famous by Sex and the City, the Cosmopolitan is a fun fruity cocktail.
​
Choose any two cocktails for just £10
AMENDED LITE BITES MENU
During our NEW opening this is our amended
food menu and offering here at the Solstice Venue.
Our bar will be open 7 days a week serving from
11.00am to Late Monday to Sunday
Enjoy our very tasty food served 7 days a week.
​